Here is a look at this week's "three stars" – according to X Marks the Sport.
1. Cole Hamels (SP – Philadelphia Phillies)
Well, this one was hard to see coming. Cole Hamels did not exactly come into Saturday's start on a hot streak, or even a decent streak. In his previous two starts, Hamels failed to make it to the 5th inning and put up a dreadful 19.89 ERA while surrendering an alarming 20 hits. However, Saturday was a totally different story. In perhaps his last start as a member of the Phillies, Hamels had maybe the performance of his career against the Chicago Cubs. He went into Wrigley Field and hurled his first no-hitter (he previously pitched in a combined no-hitter but this was the first one he completed). He struck out at least 13 batters in a start for the first time since September 14, 2010. Hamels' performance was so impressive, it caused some Cubs fans to send a public non-discreet message to the team's front office.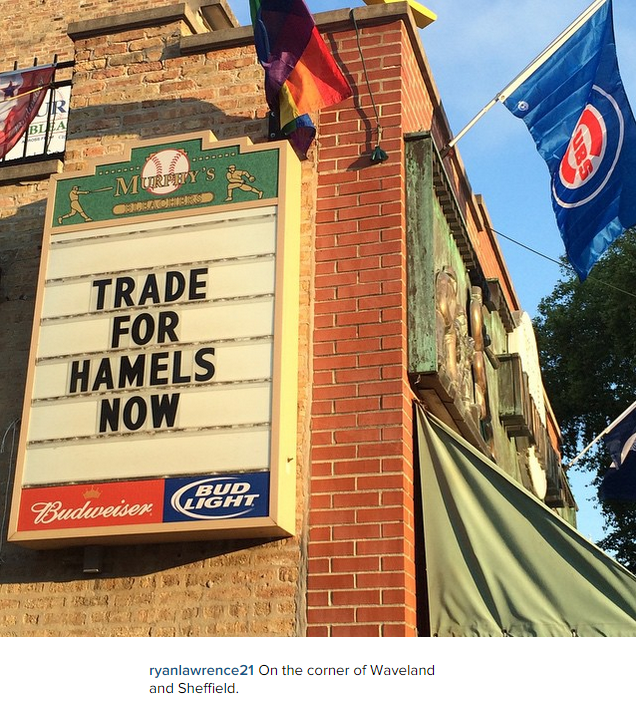 The image is courtesy of @ryanlawrence21 on Instagram. If this was indeed Hamels' last start as a member of the Phillies, it was a start that he and the Philadelphia fan base won't soon forget.
2. Zach Johnson (PGA Golf – United States)
It had been eight years since his last win at a major event, but Zach Johnson emerged from under the radar to capture the 2015 Open Championship. Johnson shot a 66 in the 4th round, which tied for the best final round. He needed it too as Marc Leishman (Australia) matched him stroke for stroke. The strong rounds from both men qualified them for a decisive four-hole playoff with Louis Oosthuizen (South Africa) who shot a solid 69 on the final day. In the playoff, Johnson was the only one of the trio who was able to birdie each of the first two holes, and that ultimately proved to be the difference as he beat out Oosthuizen by a stroke to pick up the win. With this victory, Johnson is now one of nine golfers on tour with two multiple major championships since 2007. It was his 12th overall win on tour, and second consecutive win with an aggregate score of 273.
3. Ian Desmond (SS – Washington Nationals)
The weight of pending free agency seems to have adversely affected Ian Desmond. He entered last week with a highly disappointing .206 batting average, far below his career-worst batting average .253. Desmond was desperately in need of a hot streak at the plate, and maybe this past week was the spark he had been waiting for all season at the plate. From Monday to Saturday, Desmond put together a 6-game hitting streak and had multiple hits in four of the six games. He scored at least 1 run in five of those six games, and ended the week on an impressive three-game home run streak. Desmond's overall stat line for the week was a .455 batting average (10-22) with 4 home runs, 7 runs batted in, and 8 runs scored. His big week at the plate raised his season average by 16 points up to .222. The overall numbers are still quite underwhelming, but if Desmond can build off of last week's momentum for the rest of the season he still has time to revive his free agent stock.